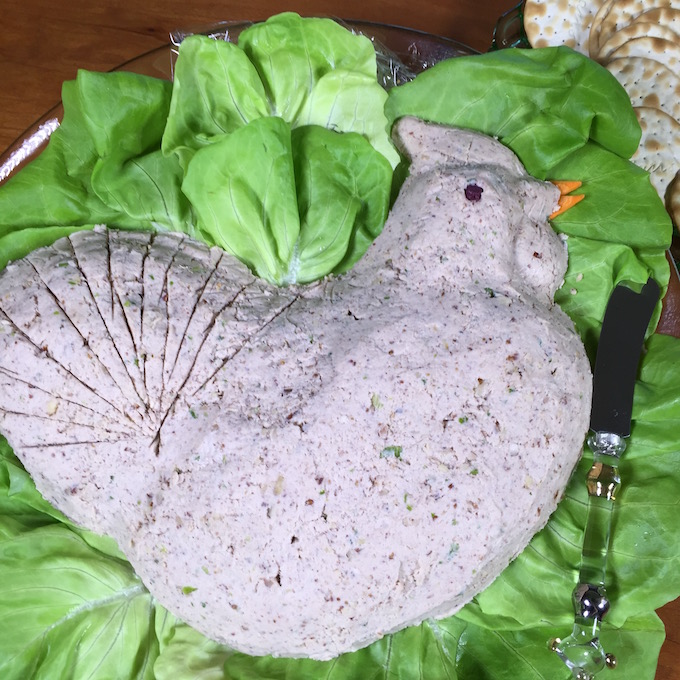 This recipe was given to me by a coworker when I was working at California Federal Savings in Los Angeles as a programmer.  She was having a party and asked if I would make it.  In those days I was not terribly fond of nuts, especially walnuts (I've grown to love them especially toasted) so this is not a recipe I would have ever tried had I come across it.  She asked me to make it however, so I did.
When I make this I put it in a copper chicken mold (lined with plastic wrap).  This may be a little hokey for some so if you don't have a mold you can use a bowl.  Before you put the pâté in the bowl, lay a few carrot slices on the bottom that have been cut out like flower petals.  Use parsley or green onion slices for stems and then spread the pâté on top.  When the pâté is unmolded you will have a pretty flower decoration on top.
You will need a food processor fitted with a steel blade and a bowl or mold for the pâté.  This is the perfect appetizer for a large crowd (serves 30) and should be made a day or two ahead so the flavors meld.  It is best served with plain crostini or table water crackers so as not to compete with the flavors of the pâté.
Chicken-Nut Pâté
Have ready a food processor fitted with steel blade.
Ingredients
1

cup

pecans

toasted

1

cup

walnuts

toasted

1

pound

chicken breast

cooked and cooled (without skin)

2

cloves

garlic

1

cup

mayonnaise

1

tablespoon

lite soy sauce

2

teaspoons

Worcestershire Sauce

1

teaspoon

cider vinegar

or white wine vinegar

1/2

cup

green onion

minced

1/4

teaspoon

salt

1/4

teaspoon

white pepper

freshly ground
Instructions
To toast nuts
Place on cookie sheet in single layer and bake in preheated 350° F oven for 10-15 minutes or until lightly browned. Remove from cookie sheet and let cool. These can be toasted ahead of time and kept in the freezer.
For pâté
Add nuts to food processor bowl and process until finely ground but don't let them turn into a paste. Transfer to small bowl and set aside.

Remove chicken from bone (if not boneless) and cut into small cubes. Add chicken and garlic to food processor bowl and process until finely ground. Add mayonnaise, soy sauce, Worcestershire Sauce, vinegar, salt and pepper. Pulse on and off until well blended.

Add onion and nuts and pulse on and off 2 or 3 times just to mix. Spoon the mixture into a bowl or mold lined with plastic wrap (to make it easier to unmold). Cover and refrigerate over night so the flavors meld. Serve with crackers or French bread on the side. Delicious!