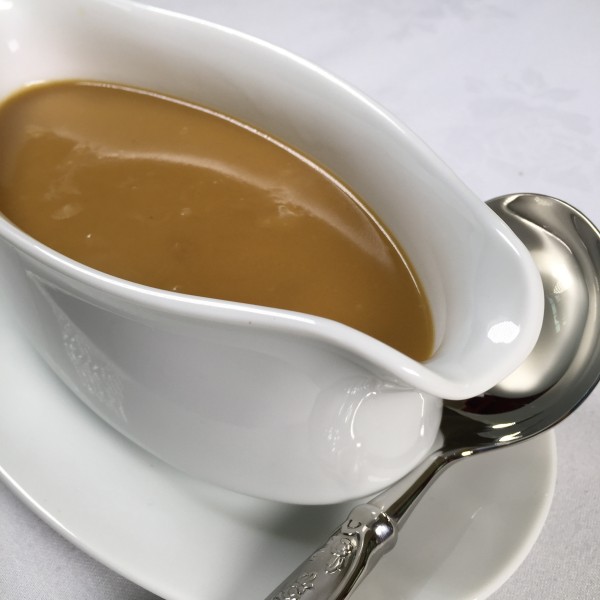 Making your turkey gravy a day or two ahead is a real time saver. Roasting some turkey wings and vegetables is all you need for the stock and whisking in a flour and butter paste (beurre manié) gives you perfect gravy for Thanksgiving Day.  To keep it warm try using a small crock pot set to low.
Do-Ahead Gravy
You will need a 10-inch by 14-inch (approximately) roasting pan. Preheat oven to 425°F.
Ingredients
Stock
4 - 5

pounds

turkey wings

2

whole

turkey necks

optional

2-3

tablespoons

olive oil

1/2

cup

white wine

2

large

onions

unpeeled and roughly chopped

3

whole

carrots

peeled and chopped

3

stalks

celery

chopped

2

sprigs

fresh rosemary

1

teaspoon

whole peppercorns

1

whole

bay leaf

1

cup

water

as needed to cover bottom of roasting pan

1/2

cup

Port Wine
Beurre Manié for Gravy
3

ounces

unsalted butter

softened

3

ounces

all-purpose flour

Salt & Pepper to taste
Instructions
Place the turkey wings, turkey neck (if using), onion, carrot and celery in a roasting pan and add olive oil. Mix together. Add the white wine and enough water to cover bottom of pan. Roast in 425° oven for 1 to 1 1/2 hours or until wings are a deep golden brown. Check occasionally during roasting to be sure the bottom of the pan is covered in liquid so as not to burn. If not, add more water.

You want your gravy to have a dark, rich color so be sure the wings are browned. You can speed this up by using the convection setting of your oven if you have it.

Remove the pan from the oven and transfer wings and vegetables to stock pot. Add the port to roasting pan and reduce on cooktop over medium heat until syrupy. This is not critical as you are just trying to cook out the alcohol.

Pour this into stock pot and add any brown bits in bottom of roasting pan. You can rinse the juices out of roasting pan with more water and add to stock pot. Add the rosemary, bay leaf and peppercorns and enough cold water to cover by 4-inches.

Bring to a boil then reduce to low heat and let cook for 2 hours, adding more water if necessary (bones should be covered by water).

Skim off and discard any scum that comes to the surface. Strain the stock and return to the pan and reduce by half or until it has a nice, rich taste. It should not taste watery. Use right away or refrigerate for up to 4 days. It can also be frozen up to 4 months.

To make the gravy, bring the stock to a boil then reduce to medium-low. Slowly whisk the flour and butter paste (beurre manié) a little at a time, into the hot stock until desired consistency and there are no lumps. The amount of stock you use will depend on how much gravy you need.

Season with salt and pepper and serve.